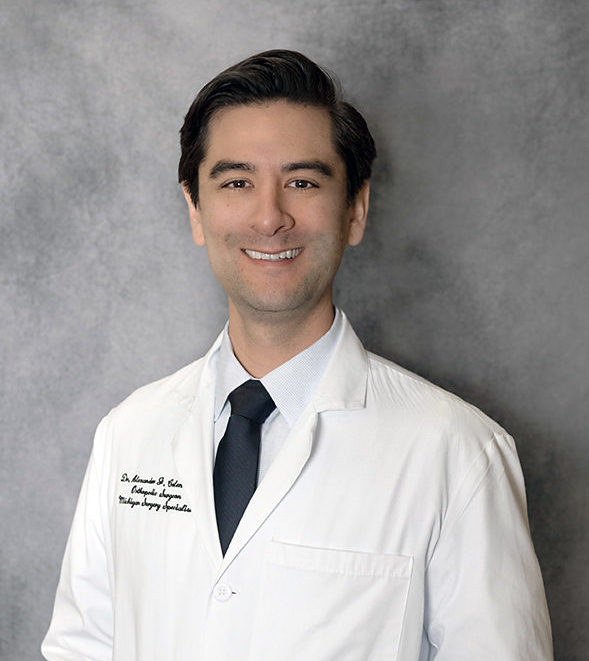 Dr. Alex Colen is the newest hand surgeon at Michigan Surgery Specialists. Between residency and his fellowship training, Dr. Colen spent six months training with our physicians as an apprentice and first assist in surgery. Now that his hand and upper extremity fellowship is complete, Dr. Colen is excited to be back home and to establish his career at MSS.
Getting Personal
Dr. Colen was born and raised in the Farmington area. In fact, his yearlong fellowship in Buffalo, New York is really the only time he has lived away from the great lakes state. Orthopedic medicine is in Dr. Colen's DNA, stating that it was his dad that made him want to become a doctor. Dr. Alex Colen's father, Dr. Robert Colen, was an orthopedic trauma surgeon who made quite the name for himself at Beaumont Farmington (formerly Botsford) before his sudden passing in 2012. Dr. Robert Colen was known for not only is surgical talents, but his connection to his patients and good nature; traits that Dr. Alex Colen strives to live by.
Dr. Colen is known in our practice for his calm, patient demeanor and his easygoing nature. He wants every patient to feel like they have bonded with him and that he has truly treated a person, not just a condition. Comforting is a feeling he hopes his patients experience in his practice, that they are safe, well cared for and that their doctor really does have their best interests in mind; a "Come on in; lets chit chat!" mentality.
Dr. Colen is also a family man! He and his wife have a daughter and their second child (a son) on the way. When he is not in clinic or surgery, he enjoys spending time with his family, traveling and an array of outdoor recreational activities.
His Practice
Dr. Colen is fellowship trained to treat illnesses and injuries from the shoulder down to the fingertips, however, he considers true hand cases to be his specialty. His attraction to hand surgery began during the second year of his orthopedic surgery residency. Dr. Colen came across several hand injuries during that time and he really fell in love with the complexity and satisfaction that came along with hand cases. He knew then that being a hand surgeon was what he wanted to do for the rest of his life. Debilitating hand illnesses or injuries can be devastating; but bringing a patient back to a normal level of functionality is truly special.
Dr. Colen is also a fan of endoscopic procedures, minimally invasive surgery performed by making a small incision and conducting the procedure though small tube-like cameras and instruments, rather than completely opening up the hand. Endoscopic surgery can carry the same risks as open procedures, but the smaller incisions result in smaller scars, less pain and quicker recovery time, which tends to be more satisfying for the patient and physician.
His Care Philosophy
His philosophy on patient care is simple: treat the whole patient. Lifestyle, goals, occupation, help at home… these are all factors he considers when creating a treatment plan for a patient, rather than jumping to surgery as the first or only option. When surgery is necessary, Dr. Colen prefers to use minimally invasive techniques whenever possible.
Want to know more?
You can read more about Dr. Colen's medical education, his experience and the insurances he accepts on his profile page.
Where can you find him?
Dr. Colen is accepting new patients his our Livonia and Warren locations!